Bushcraft Crusader MK2 Cooker and Cup Set
Lightweight for Backpacking
Bushcraft Hard Anodized Aluminum Cook Set
The Crusader II Cooking System is a lighter weight version of the popular stainless steel Crusader Cook Set.
Its lighter weight hard anodized aluminium construction makes it ideal for packing light, yet is still very strong and durable. As with the regular stainless model, this integral unit conveniently nests together, to pack neatly in a pouch when traveling.

The Crusader MK2 Cooker is suitable for multi fuel and due to its improved design, features an internal "chimney," with numerous positioned vent holes, to help retain as much heat as possible and funnel the airflow for effective fuel burn. The crucible ideally holds a Trangia Alcohol Burner or an Esbit Alcohol Burner - probably a well gestured design pre-thought of BCB! The taller cooking pot helps to deflect wind. Can be used with any solid, gel, or liquid fuel.

The Crusader II Cooking System comes with an Osprey heavy duty plastic canteen water bottle and mug, a Crusader hard anodized aluminium metal cooking pot, and a hard anodised MK2 cooker with fuel crucible, that will accomodate gel fuel, solid fuel or an alcohol burner. The 1 liter capacity cooking pot has .5L and .25L markings on the side for reference. Simply add fuel to the cooker, fold over the integral arm and set the cooker mug on top for a very effective cooking unit.


Complete Cooking System with Zulu Belt Pouch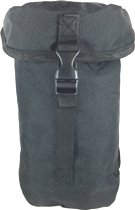 Hard anodized black finish aluminum construction. Nests neatly for storage and travel.
Crusader II Cooking System Cookset. Molle compatible pouch.
10.5" x 6"
Crusader II Cooking System

OUT OF STOCK
$59.95
Bushcraft Dragon Cooking System
Stainless Steel Cup to replace Aluminum Anodized Cup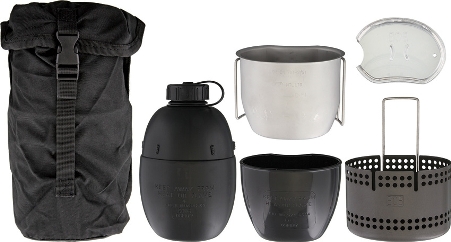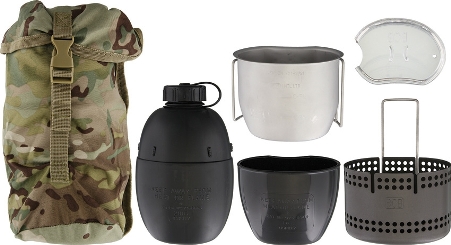 Same great system as above, but with a stainless steel cooking cup instead of black finish aluminum, for those looking for the heavy duty stainless cup from the original Crusader kit, instead. Includes the Zulu Belt Pouch, Flint & Steel Fire Starter and Crusader Cup Lid. Hard anodized black finish aluminum cooker. Nests neatly for storage and travel.
Crusader Dragon II Cooking System Cookset with choice of bag color.
Weight: 29.5 oz.
$69.75