Bushcraft Dragon Crusader 5 Piece Multifuel Cooking System

BCB BUSHCRAFT MULTI-FUEL COOKING SYSTEM CN023M
The BCB BUSHCRAFT MULTI-FUEL COOKING SYSTEM, is a neat, all-in-one, professional, strong, multi-fuel cooker, drinking cup, aluminium cooking cup and water bottle. Similar to military issue, each item fits neatly inside the other and also 'around' the water bottle so it is compact for you to carry. It is shaped to fit next to you and it is all contained in a handy, belt-pouch, also included.

Contents:
1.Plastic Drinking Cup - folding handles
2.Osprey Canteen Waterbottle – 1 Litre (1.76 pints) capacity, heavy duty
3.Aluminium Cooking Cup which doubles as a cooking pot and features a special heat receptor on its base. Has fold out handles.
4.Stainless steel, multi-fuel cooker. Nests neatly and compactly beneath the cup, with a fuel chimney which enhances the burn
5.Belt mounted carrying Black Pouch. Perfect accessory with separate compartment for the cup lid.


Optional Carry Bags Available
As a complete set, this innovative solid/gel fuel Crusader Cooker Unit, is designed to meet the changing requirements of the future combat soldier and survivalists alike. An integral folding arm allows the Crusader Cup Canteen to fit securely over the internal fuel crucible cooker which together houses the Osprey Water Bottle and Cup. They all fit snugly in the standard black or camo pouch which is included, or you can purchase the optional carry-all canteen pouch above. The BCB Cooker has a capacity for 40 ml of gel fuel or up to two hexamine fuel blocks, or if you prefer, the Vargo alcohol stoves fits nicely in the center.

$67.50
OPTIONAL CARRY BAG
* Perfect Zulu Bag for housing the BCB Crusader Integral Cook Set
* Zip pocket and pouches for carrying multiple accessories
* Interior has two pouches and drawstring cover
* Flap closure with 2" wide front quick release buckle
* 1 1/2" adjustable and detachable shoulder strap
* Detachable Shoulder pad
* Front zippered pouch with interior and exterior pocket
* MOLLE attachment straps on back
* Carry Handle
* Measures: 10" x 6" x 4"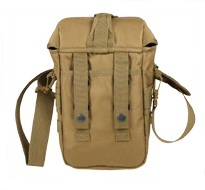 $21.50
click on image
Pouch only - On Sale
MOLLE attachment straps on back
Detachable shoulder strap