Kaito Voyager Solar Dynamo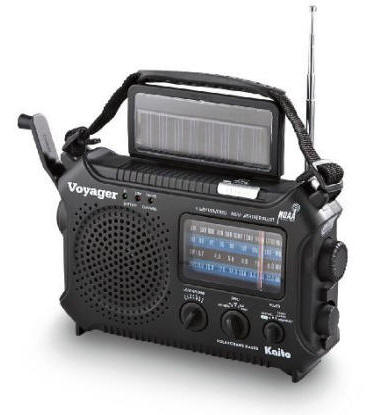 Kaito Voyager - Solar - Dynamo - NOAA Weather Radio
with AM/FM, Shortwave, Built in Flashlight, Reading lamp, SOS & Charger

The new Voyager Radio by Kaito has taken the meaning of being prepared to the next level.
In a natural disaster or extreme emergency, this multi-powered radio will keep you connected to the outside world and current conditions with 11 bands - AM/FM, shortwave band 1 and 2, and 7 weather stations. This radio will provide information even in total blackout. NOAA weather alert sends an emergency wireless signal to the radio for local disasters. Built-in rechargeable batteries can be powered by an adjustable solar panel during the day and powered by dynamo(hand cranked) at night. Or you can also add your own regular AA batteries. The body of this radio is super-durable; and and it's rubberized and water-resistant, making this radio "one tough cookie" It has a built in LED flashlight, reading lamp and SOS emergency light. USB port provides standardized access to charge USB cell phones, iPod / MP3 players and more. It also includes adapters for most non-standard brands..


* 11 Bands: AM/FM, Shortwave 1&2 and 7 Weather Bands.
* NOAA Weather Alert sends an Emergency Wireless Signal to the radio for local weather disasters.
* LED Flashlight plus 5 LED Reading Lamp.
* 4 Way Power - Dynamo hand charging (no batteries required)- Solar Powered
* 3 "AA" - AC Adaptor (not included).
* Water resistance - rubberized body
* Built in USB (plus two other ports) lets you charge, cell phones, Blackberry, I pod/ MP3 and more.
* Dynamic wide-range speaker for crystal clear sound
* Headphone jack for private listening
* Rubberized carry straps.
* Includes power tips to charge most popular cell phones.
* Actual Size: 8" x 5" x 2.6" Weight; 1 lb. 4 oz.
Kaito Voyager Solar Dynamo Weather Radio

$49.95

KAITO ACCESSORIES: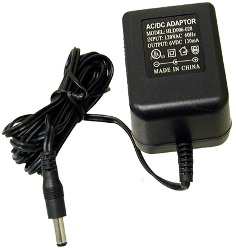 AC/DC Adapter 1 of 4 ways to power the Voyager
Good for charging the radio
Better for FM reception
$5.95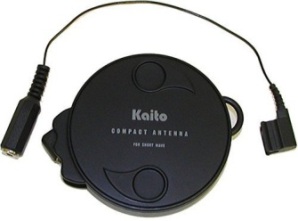 Compact retractable reel-in antenna
Improves the reception on the shortwave bands for any portable shortwave radio.
Works with radios that have an external mini jack.
Extremely compact and lightweight.
Just plug it into the radio and extend it up to 23 foot to increase reception.
$8.95