BurnFree Kit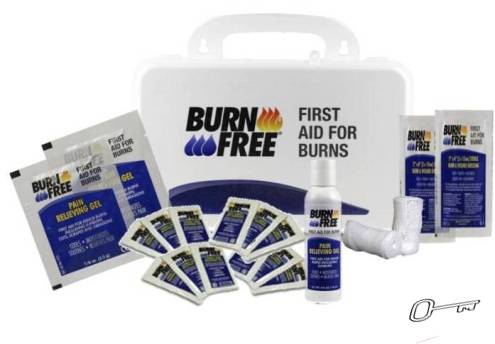 BurnFree solves the immediate first aid needs for all types of burns by relieving the pain, rapidly removing the heat, and cooling the burn.
Burns are an incredibly common injury. Every 25 seconds someone gets burned so be prepared with this BurnFree kit. The Emergency Burn Kit is a most popular kit, ideal for personal use, and should be kept in every vehicle, home, and office.

Contents of this kit will provide immediate pain relief by covering exposed nerve endings. It will rapidly cool and soothe the burn and draw the heat out to stop the burn progression. It also reduces swelling, redness, and additional skin and tissue damage. Medical grade ingredients, portable, safe, and easy to use.

Kit Contents:

2-2"x 6" dressings,
2-4"x 4" dressings,
12-3.5g single dose packets,
1-4 oz. bottle,
2 roller gauze,
1-kit box with built in closure.
Temporarily Out of Stock
$29.75