Toothpaste Tablets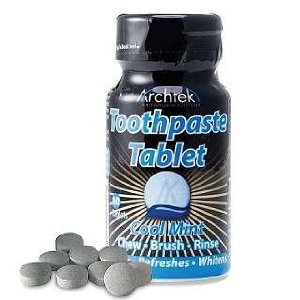 No added weight or mess to deal with !
Toothpaste in a unit dose tablet for chew…brush…rinse convenience. Features a dental paste solution with none of the mess that comes with a tube, thus providing increased sanitation. Re-cyclable packaging, and a light weight travel friendly format. Add these to your backpack for emergency hygiene situations.

Chewable tablet in a

COOL MIN

T flavor
Chew tablet, followed by normal brushing and rinsing
Unit dose guarantees the correct amount for each brushing
More sanitary than paste
Does not contain peroxides or bleach components
Can be used without water
Packaging is completely recyclable
Airport and travel friendly
Ease of use for children, the elderly and the institutionalized
15 Individually wrapped tablets
Perfect for Grab n Go kits
$3.90
This is an excellent choice for people on the go, and can be used without water!

60 500mg tablets
Flip top dispensing lid
Cool Mint Flavor
Chew…Brush…Rinse!
Bottle of 60 tablets
$6.75