Standard Survival Fishing Kit
A fishing kit adds great value to any wilderness survival kit. Fishing is an excellent method of procuring food and is relatively easy for anyone to do. A ready Line that is immediately ready to bait and place in the water is set up with a Bobber, Sinker, & Hook. The sooner you start fishing, the sooner you'll catch a fish. The Standard Emergency Survival Fishing Kit is an exceptionally well stocked, durable, quality and inexpensive survival fishing kit. It was designed as a collaborative effort between survivalists and avid fisherman.
The Survival Fishing Kit comes in a durable tin container which is sealed with water resistant tape then slipped into a zip lock bag. Also included is Silica Gel (moisture absorbent) Desiccant to make sure your survival fishing kit stays dry.
This Survival Fishing Kit includes a Derma-Safe Utility Knife. This foldable, mini razor knife guts fish easily. Rounding out the utility of the Survival Fishing Kit is a brief fishing manual written by people that fish. It includes suggestions and techniques that increase your chances of catching fish, the basics of setting up your line and the all important task of knot tying.

Assembled in the USA


Exceeds Alaska/Canada Over Flight Requirements
Quality Razor Utility Knife
Pre-made Fishing Line
Designed by Avid Fishermen
Fishing Tips and Tricks
Water Tight Packaging(zip-lock bag)
Silica Gel Desiccant
Quality Components
Name Brand Manufacturers
More of most used items
Reasonably Priced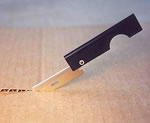 Out of Stock
$22.95
Manual- Fishing Tips and Instructions
Jig - (1) 2" Swirl Tail Grub
Jig - (1) Tiny Shad
Jig - (1) 1 1/2" Tube Jig
Spoon - (1) 1/4 oz.
Fly - (1) Size 8
Fly - (1) Size 10 1/8
Desiccant - (1) Moisture Absorbing Packet
Razor - (1) Folding Razor Knife
Hooks - (2) Treble
Hooks - (3) #4
Hooks - (3) #6
Hooks - (3) #8
Leaders - (4) Wire Wound Leaders
Split Shot - (4) BB
Split Shot - (4) 3/0
Bobber - (1) ¾"
Line - (50 Ft) 12 LB
Line - (25 Ft) 30 LB
Ready Line - (Line, Bobber, Sinker, Hook)