Pathfinder Trail Pro Adventure Bag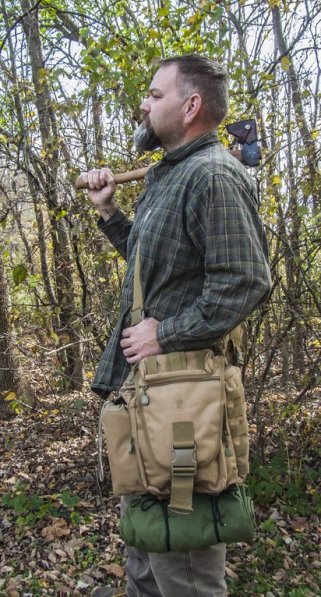 Plenty of Room - larger than your average bag
Pathfinder Trail Pro Adventure Bag
The Pathfinder Trail Pro Adventure Bag offers a great asset….VERSATILITY! Adapt to your situation, whether it be a weekend hike or week long adventure. This bag comfortably holds everything you need for your next excursion. The Molle webbing and strap attachments offer you a variety of options to carry additional gear that would otherwise be left behind. Water bottle pocket will accomadate the Pathfinder GEN3 32oz Bottle, The Klean Kanteen 40oz & 64oz Bottle as well.

This bag will hold all your cooking gear from the stove and skillets to your freeze dried foods, water filters, and then some! It will even accomodate a bedroll or tarp, which will attach to the bottom of the bag. This bag can also be used as an EDC for your vehicle, just in case you need to "trek out".

The Pathfinder Adventure Bag contains 9 separate compartments/pockets with 1 large 12" x 10" bucket pocket. Comes with heavy duty buckles and straps, water bottle pocket, and adjustable shoulder strap.
Features:

•12" x 10" large bucket pocket
•Water bottle pocket (specifically design to hold the Pathfinder GEN3 Bottle & Cup set, along with the Bottle Stove & Alcohol Stove)
•9 Compartments/pockets
•Multiple adjustable straps for versatility
•Molle webbing
•Heavy duty buckles and straps

Bag Comes with:
•1 Shoulder Strap
•2 Adjustable Pads
•2 Adjustable Mounting Strap
•3 Gear Loops
49.95