Grilliput Portable Collapsible Grill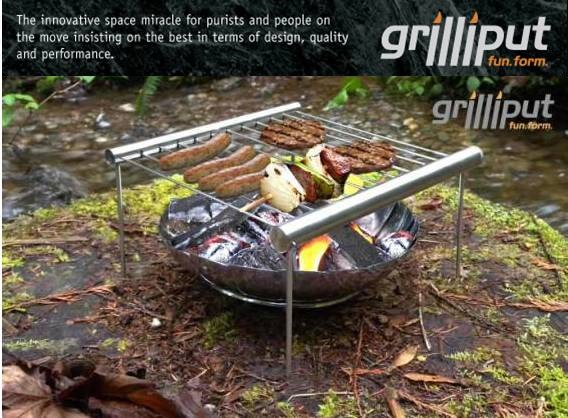 Grilliput Grill with Collapsible Fire Bowl (below)
Stores in its Cylindrical Tube
Simple and elegant, the Grilliput Grill provides maximum experience for minimalists—after all, less is more! Form and function are harmonized in the high-quality, German-designed portable grills and fire bowls. They use only top quality stainless steel for durability. Grilliput is completely dishwasher-safe and allows backpackers, boaters, and other outdoor minimalists to take charcoal grilling with them wherever they go.

Constructed from durable stainless steel.
Cleaning groove for soiled grill bars.
Grill parts fit inside stainless steel tube for easy and compact storage.
Bail for hanging in storage
Includes 1 thick tube with a stopper, 1 thin tube with a cleaning groove, 2 outer grill rods with hooks and threads, 10 grill rods, 4 grill feet.
Dimensions-packed: 11.4" x 0.9" (29 cm x 2.2 cm)
Dimensions-bbq area: 9.1" x 10.2" (23 cm x 26 cm)
Weight: 19.8 oz. (560 g)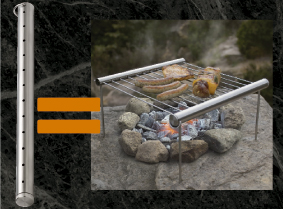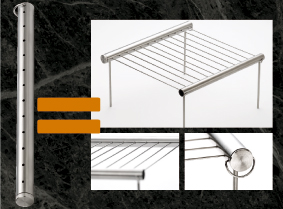 Stores in one cylindrical metal tube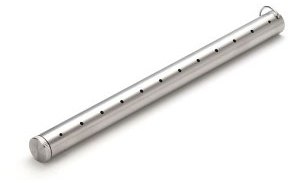 The "Grilliput" collapsible grill encased in tubing
$25.45
Grilliput Fire Bowl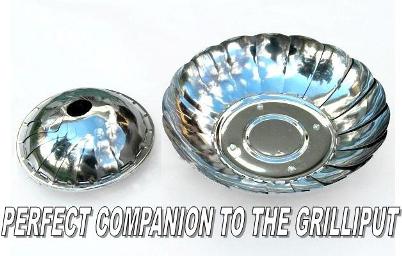 The Grilliput FireBowl™ keeps your fire safely contained and off the ground, making it ideal for low-impact camping, backyard, or patio use. Made of durable stainless steel, the FireBowl holds charcoal or wood and is the perfect accessory for the Grilliput portable collapsible grill or other barbecues. Weighing just under 10 oz., it is easy to carry backpacking, canoeing, biking, camping, or to bring on the next tailgate party. Plus, you can store some briquettes or wood inside the collapsible FireBowl to conserve space.

Portable FireBowl™ for use with the Grilliput colllapsible grill and other camping grills.
Great for low-impact camping, backyard, or patio use.
Safely contains a fire and keeps fire off the ground.
Constructed from durable stainless steel to provide high rust and corrosion resistance.
Lightweight and collapsible, yet allows enough space to transport briquettes or wood.
Dimensions-packed: 7" x 7" x 3.125" (18 cm x 18 cm x 8 cm)
Weight: 10.1 oz. (286 g)


$12.50