Kleen Kanteen Wide 40 oz. Stainless Cup Combo
The 40oz stainless steel food grade Kleen Kanteen Wide Water Bottle and Olicamp 16 oz.Cup is the ultimate combo for long road trips or the backcountry.
The extra wide opening is more than 2 inches in diameter for quick filling, pouring and cleaning, and the stainless steel thread design works with standard backcountry water filters. The loop top lets you attach the bottle to a backpack or belt loop, as desired. Now pair it up with the Olicamp 18/8 Stainless Steel 16 oz. cup and you have the perfect fit paired combination.
The cup has wire handles that fold flat around the cup when not in use, to save space. The handles are made to extend far enough from the cup to cook without burning your fingers and doubles as a measuring cup with easy to read graduations on the side of the cup, which could come in handy for measuring water that is needed to be treated with a purifier tab.
Features of all Kleen Kanteen Water Bottles:
•Extra wide opening fits ice, easy filling and pouring
•Compatible with most backcountry water filters
•Electropolished interior doesn't retain or impart flavors
•Safe, durable, high quality materials
•Cap creates all stainless interior
•Dishwasher safe - BPA Free
$32.50
Kleen Kanteen Cup Combo with Pathfinder Bottle Stove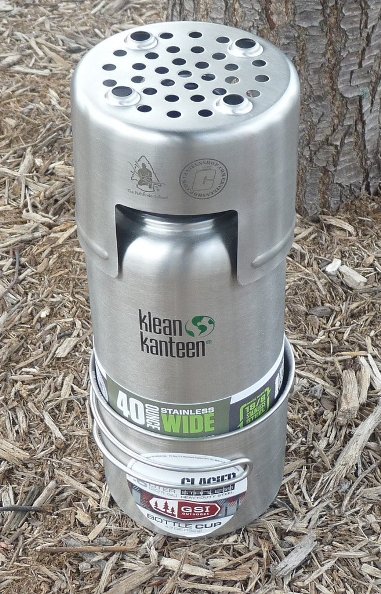 Pathfinder Bottle Bag


* This Pathfinder Bottle Bag will contain the Kleen Kanteen 40 oz. Stainless Water Bottle and cup combo with room to spare.