Pathfinder Gen3 Stainless 32 oz. Bottle Cup Cook Set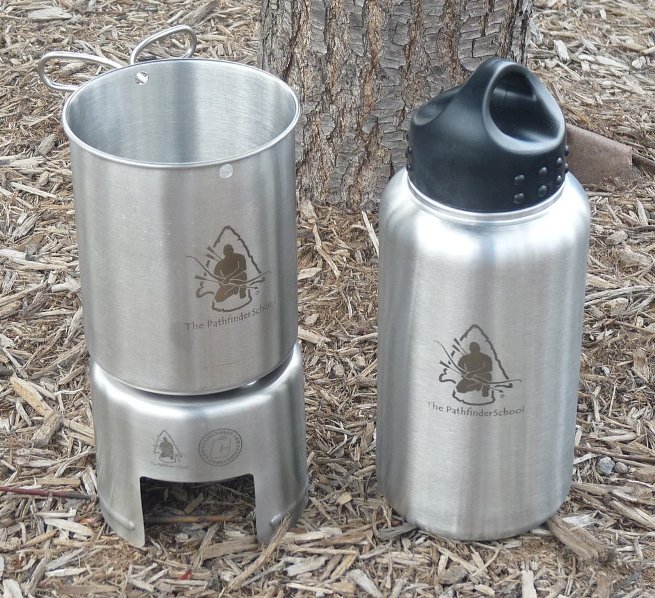 A Stainless Beauty!
A Complete Cooking Kit for your Outdoor Adventures!!
The Pathfinder Stainless Steel Cook Set is an integral system designed to nest together for a convenient and compact storage.
The Pathfinder Widemouth Bottle was designed to hold exactly 32oz of liquid, the amount generally associated with purification tabs. The widemouth design of this bottle allows you to easily obtain water from the shallowest of water pools.

The Pathfinder Bottle Stove makes a perfect companion to the 32oz Pathfinder Bottle & Cup set. Its grill top is designed to keep the cup above the flames in order to maximize the heat.
The 25 oz. stainless steel cup and lid are larger than most cups and has butterfly wing handles along with graduated markings on the inside of the cup. The cup lid comes with strainer holes and has cutouts to be used in conjunction with the Bottle Hanger.

Comes with; Pathfinder 32 oz. Water Bottle, 25 oz. Cup and Lid and Pathfinder Stove.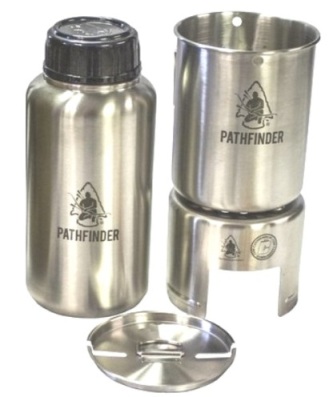 Pathfinder Bottle, Cup and Stove Set. Loop style bottle cap (above) not included - comes with flat style cap.
$57.90
$54.95
32 Oz. Loop Style Bottle Cap


A Pathfinder 32oz. Bottle Cap for GEN1, GEN2, and GEN3 Pathfinder Bottles This cap & o-ring will only fit the Pathfinder 32oz. Stainless Steel Bottles.

$6.00
Pathfinder Bottle Pouch