Titanium Hexagon Wood Stove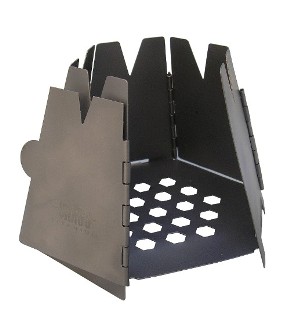 Great for Backpacking
The Vargo titanium hexagon backpacking wood stove folds to a flat slim compact size, requiring little space in your pack. The individual titanium panels are completely hinged and snap easily into place for quick set-up. Durable titanium construction is able to endure long term heat without damage. The conical shape focuses heat upward, directing it to your pot, for quick efficient cooking. A hinged access door can be opened or closed for air control, as well as re-fueling.
Nylon carrying case with velcro closure included.
Unfolded size: 4" H x 5" base diameter x 3" top diameter Wt: 4.1 oz.



Titanium Hexagon Wood Stove
Folds Flat
$57.50
Vargo Hexagon Stainless Steel Wood Stove
Same as above, but stainless steel

Weight: 7.4 oz.
Height: 4 inches
Base diameter: 5 inches
Top diameter: 3 inches


$38.95