Vargo Titanium Triad XE Alcohol Stove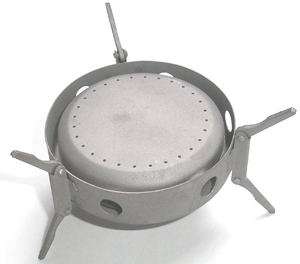 All Season, All Terrain, Multi-fuel Capability
The Vargo Titanium Triad XE is a dual-fuel (alcohol / fuel tab) stove. The titanium Triad XE was designed for weight-conscious backpackers that recognize the advantages and disadvantages of burning denatured alcohol. Specifically, denatured alcohol does not burn as well in high altitude (generally over 11,000 feet) or very cold temperatures (below 20 degrees F). In these situations burning fuel tabs is recommended.

Characteristics of burning alcohol in the Vargo XE alcohol include intense heat during the priming stage and moderate heat once primed. Once primed the stove is very fuel efficient, using very little alcohol. In general, the XE can be used effectively in any condition, making it a stove that we believe sets a higher standard in ultralight hiking.

The Vargo multi-fuel Triad XE Alcohol Stove picks up where other stoves fall short. By burning denatured alcohol, fuel tabs, or fuel gels, the titanium Triad XE is your all season, all terrain, go-to ultralight stove. Use the inner canister to burn your choice of alcohol or when faced with high altitude or subfreezing temps remove the inner canister and add your fuel tabs or gel. Don't let your alcohol stove hold you back on your next excursion!
Features:
* Removable inner container
* compact design
* retractable top and bottom legs
* easy to fill
* burn time: approx 25 minutes
* boils two cups of water in approximately 6 minutes
* fits any size pot (If you use a small diameter pot for cooking, such as a mug, simply fold the top legs in so that they rest against the top of the inner container)
Size: 3.9"D x 1.2"H
Weight: 1.5 ounces

$27.95