United Bushmaster Survival Knife Kit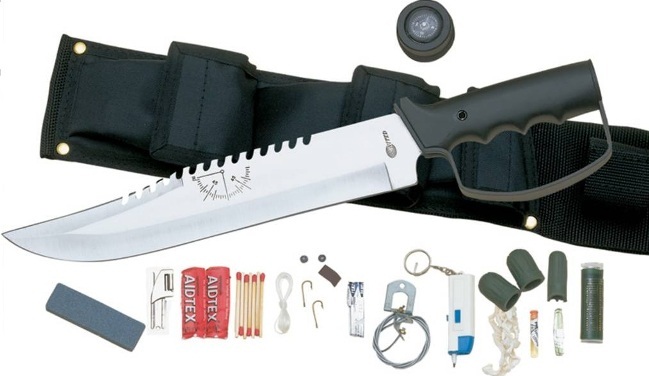 This survival knife surpasses those other cheaply made models.
It's black cast metal handle has a detachable hand guard and survival kit stored inside. There is a precision compass built into the butt cap. Knife features a 10-inch, clip-point blade of 420 stainless steel with a plain edge for slicing and a heavy-duty serrated edge for sawing. Comes with a heavy nylon sheath with a protective plastic blade shell that holds a G.I. can opener, sharpening stone, animal snare, snake bite kit, sewing needles, band-aids, matches, surgical blade, magnifier, and an emergency flashlight. 15 1/4" overall. 10" 420 J2 stainless blade with sawback.

Survival Kit Components:
Precision compass
G.I. can opener
Sharpening stone
Animal snare
Snake bite kit
Flashlight
Sewing needles
Band-aides
Matches
Surgical blade
Magnifier
Fishing hooks
Line and sinkers


Knife Specifications:
Total Length: 15.25 inches
Blade Length: 10 inches
Blade Material: 420 Stainless Steel
Blade: Clip point, straight edge, and saw back edge
Handle Material: Black cast aluminum
Push tang construction
Compass built into the butt cap
Detachable hand guard
Nylon sheath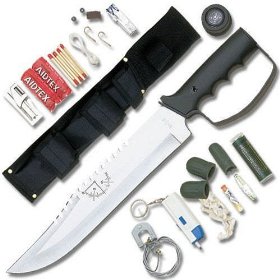 $39.50