Mestel SGE 400 Gas Mask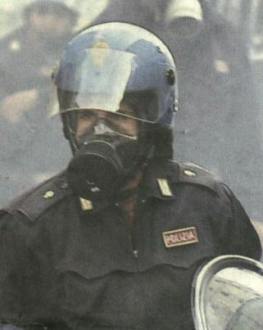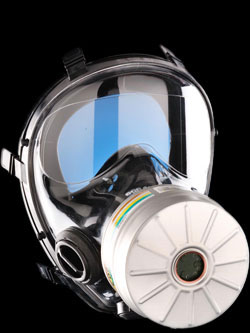 Designed for Law Enforcement
Anti Riot Designed to Meet Military and Civil Defense Requirements
FULL NUCLEAR, BIOLOGICAL AND CHEMICAL PROTECTION!

The SGE 400 series masks are the newest design from SGE and have many features not found on the SGE 150 and earlier SGE 400 Gas Mask models.
The Mestel SGE 400 Gas Mask features the unique polycarbonate face plate for the widest possible field of view.The full facial coverage provides wearers with full visibility and additional face protection from flying debris. The extremely durable polycarbonate visor has been tested to resist a one inch steel ball, that was propelled at 335 MPH without cracking or damaging the face shield. The mask was also tested for heat resistance and will not catch fire or melt at 800 Degrees C (1472 F) for 5 Sec. or 200 degrees C (372 F) for a duration of 6 Min. Controlled air flow prevents fogging of the visor.

When used with NBC rated filters, this mask is certified by the manufacturer to provide complete NBC nuclear, biological, and chemical) protection. Provides great protection from radiation fallout.
The mask conforms to European Standard EN-136 and uses all standard NATO, NBC-rated, 40mm screw-in filters. The mask is fitted with 6 straps that ensure a perfect fit over the face.

A.) Lens treated with a special Siloxane chemical & scratch resistant coating for extended periods of use.
B.) A moisture relief valve is added for enhanced user visibility & comfort
C.) The entire face seal is made from medical grade silicone which has excellent chemical permeation resistance, provides a superior seal against the face & is far more comfortable to wear than conventional rubber face seals.


● Single front filter connection
● Ballistic and chemical aggressive treated face shield
● Silicone face seal (excellent for long period use; tested for 6 days without removing)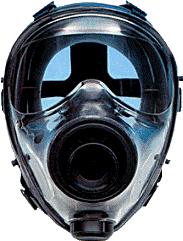 SGE400 Out of Stock
SGE400 Gas Mask

* Med./Large most commonly used
SGE 400 Mask only
$144.95
SGE 400 Gas Mask and Mestel Filter
$182.90
SGE 400 Gas Mask w/ Drinking System Adapter -
must be installed at factory
$219.95
NOTE: Medium/Large is the most commonly used size. The sml/med. size will fit those with very small facial features. Due to safety concerns, masks are non-returnable
Optionals: