Bear Grylls Ultimate Survival Knife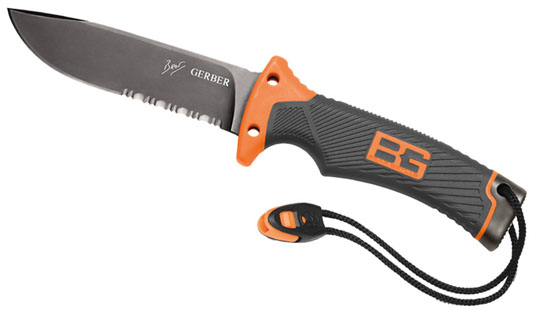 A FULL TANG KNIFE AND SURVIVAL KIT IN ONE !
The Ultimate Knife is the pinnacle of Bear Grylls Survival Series
Intricately designed by Gerber and Bear, the Ultimate Knife is loaded with innovations that cannot be found in any other fixed blade knife. Gerber is well known for their quality knives and the Bear Grylls Ultimate Knife is no exception.
The Bear Grylls Ultimate Knife features a versatile 4.75-inch drop-point blade which is partially serrated to make quick work of cutting rope and other fibrous materials. Without saying, it has a full-tang construction for overall durability, and it is crafted from hard stainless steel, which allows for excellent edge retention.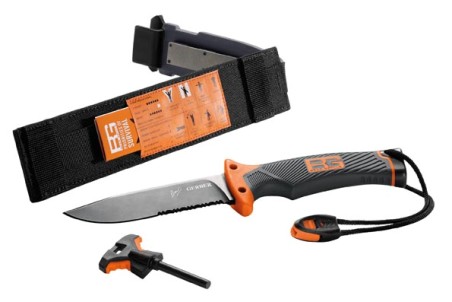 The ergonomic design delivers versatility and comfortable handling , while the rubberized textured handle allows for a dependable non slip style grip. There are two holes in the handle for securely lashing it to a stick for use as a fishing spear- or for whatever the situation calls for and the handle base features a stainless steel pommel that can be used for pounding or hammering. Attached to the end of the knife is a lanyard cord with an integrated emergency whistle. Balanced for optimum handling, this Gerber Bear Grylls Survival Series Knife has an overall length of 10 inches and weighs just 11.2 ounces--14.72 ounces with the included sheath.

The nylon sheath that comes with the knife is crafted from lightweight military grade materials that are mildew resistant for long-term use in harsh climates and, in fact, folds open to reveal a built in diamond sharpener. The sheath also has a life-saving ferrocerium rod fire starter locked into a water-tight holder. This ferrocerium rod produces a shower of hot sparks when scraped against the rough surface of the striker notch that is incorporated into the back of the knife blade. For further versatility and functionality, the sheath includes a waterproof "Priority of Survival" guide tucked into a protective pocket on the back of the sheath. There is a Velcro closure to keep your knife secure.Knife Features:
1/2 Serrated High Carbon Stainless Steel Drop Point Blade – Ideal for edge retention and cutting rope
Full Tang Blade Construction- For maximum durability
Ergonomic Textured Rubber Grip – Maximizes comfort and reduces slippage
Stainless Steel Pommel – At base of handle for hammering
Emergency Whistle – Integrated into lanyard cord
Sheath Features:
Fire Starter – Ferrocerium rod locks into sheath, striker notch incorporated into back of knife blade
Nylon Sheath – Lightweight, military-grade, mildew resistant
Land to air rescue instructions
Diamond Sharpener – Integrated into sheath for on-the-go sharpening
Priorities of Survival – Pocket guide contains Bear's survival essentials
Tech Specs:
Overall Length: 10-Inch
Blade Length: 4.75-Inch
Weight: 11.2-Ounce alone, 14.72-Ounce with sheath
$39.95