Expandable Black Steel Batons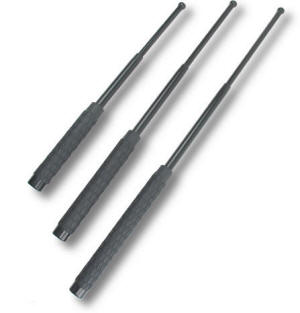 Bone Crushing Power
These solid steel batons expand to either 16", 21", 26", and now the new 31 " inch model with just a flick of the wrist. The telescopic steel baton comes with a padded handle for easy gripping and a heavy-duty nylon holster with belt loop for easy carrying. If you are looking for effective self-defense with extra reach, the expandable steel baton is it.
This expandable steel baton is great for use in a self defense situation. It has taken the
place of the old Billy Club. The included nylon sheath has a built in belt loop to easily fit on duty rigs of security guards and other law enforcement personnel. A Positive friction locking system will ensure the baton will not collapse when you need it most. Foam grip keeps baton under your complete control

These collapsible batons can be easily hidden and quickly extended for immediate use. A whack with one of these will make someone think twice!
To close, tap first at an angle, then straight down on a solid surface.


Comes with sheath holster
$19.95 - $29.95