Rothco Advanced Tactical Shoulder Bag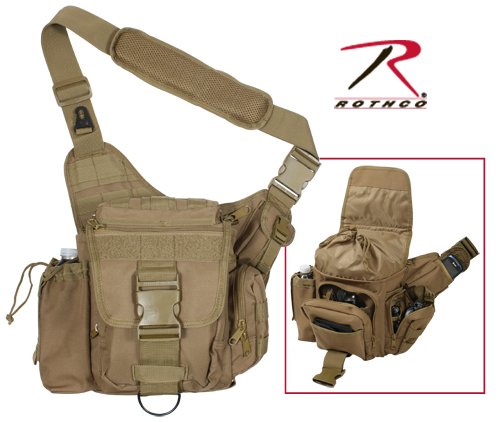 AN IDEAL ORGANIZER FOR CAMPERS AND TRAVELERS

Rothcos heavy duty advanced tactical shoulder bag conveniently hangs by your side and provides quick accessibility to your gear. Its many pockets and pouches allow for convenient group separation. Large enough to easily carry all your needed emergency supplies.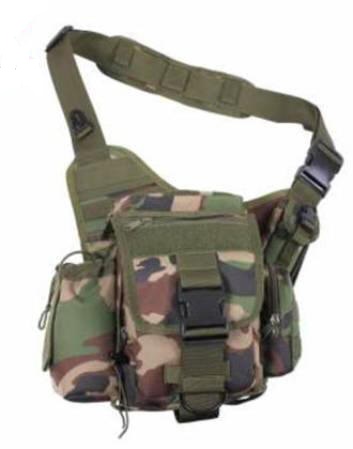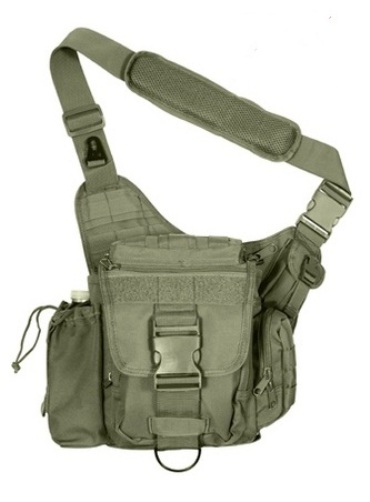 VERY POPULAR MULTIPLE USE BAGS
The very durable Rothco advanced tactical shoulder bag is MOLLE compatible and houses a state-of-the-art portable gear organizer. It features a 2" wide adjustable, padded shoulder strap with a quick release buckle and hook, large side pouch with draw sting closure and hook and loop tie down. The main compartment has a water-resistant storm collar that can be utilized by pulling and tightening a cordstring. At the rear of the bag are three padded areas and a smaller zippered side pouch. Similarly featured is a front flap closure with a quick release buckle with two exterior zippered pockets... one with a draw sting close top and another cell phone pouch with a quick release buckle. On the main interior area are two inside pockets.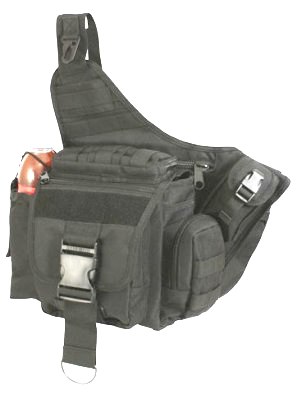 Product Features
Advanced Tactical Shoulder Bag - MOLLE Compatible
2" wide adjustable, padded shoulder strap with a quick release buckle and a attachment hook.
Belt loop with hook and loop
Bag is padded where it comes in contact with the body
Large side pouch with drawstring closure and hook and loop tie down (great for water bottle)
Five zippered compartments, two quick release buckle compartments, and two pouches.
Main Compartment has two inside pockets and a drawstring cover which is then covered by the flap with a quick release buckle
Plenty of straps, clasps, a D-ring, and velcro areas allow for attaching small items
Cell phone pouch: 2.5" (L) x 1" (W) x 4" (H) with two pen holders
$36.95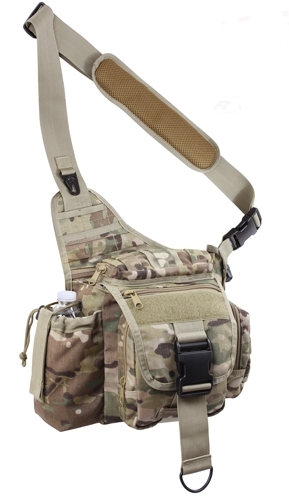 Rothco Advanced Tactical Shoulder Bag - Multicam
$59.50