Survival Water Storage Bag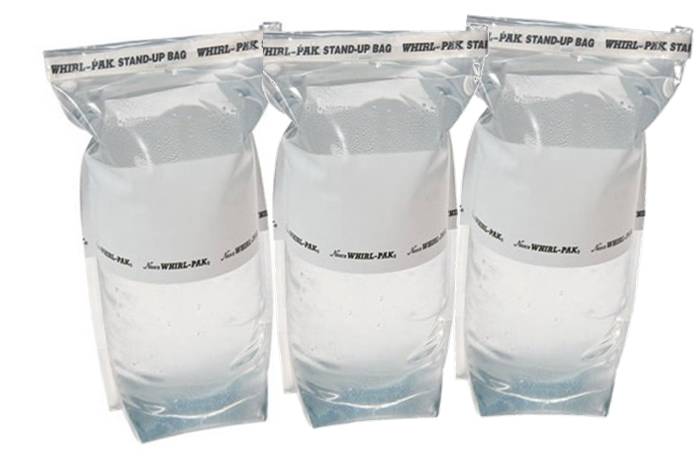 Survival Water Storage Bags - 3 Pack
4 MIL HEAVY DUTY - GUSSETED STAND UP - "WRITE ON" STRIP
* 4 Mil HEAVY DUTY POLYETHYLENE -The Survival Water Storage Bag, when full of water, will withstand the pressure of a 185 lb. man standing on top of it.
* WRITE ON STRIP - for making notes for future reference
* GUSSETED STAND UP- "stands up and opens wide" with tabs for filling
* SPILL and LEAKPROOF - for safe and secure transportation
* PACKS DOWN GREAT - for use with smaller Survival Kits!
* 36 OUNCE (1 liter) CAPACITY - perfect for water treatment
* CAN BE FROZEN AT ANY TEMPERATURE -
A STANDARD FOR MEASURING PURIFIERS
Because these are 36 oz. (1065 mil), they are perfect for water measurement and treatment. Most water treatment purifiers on the market, whether chlorine or iodine based, will use the standard 1 quart or 1 liter amount of water as a standard of use when adding tablets to purify water. There is also a strip on the survival water bag where you can write instructions or notes concerning the bags contents for future reference.
SPILL/LEAK PROOF - PUNCTURE PROOF TABS - EXTREMELY DURABLE
The polyethylene survival water bag has a 4 mil thickness and comes sterile, sealed at the factory - one must tear off the tab at the top of the bag for the first time use. Once the survival water bag is filled with water, simply roll down the top 3 times and fasten with the tabs, or whirl the bag (thus the name Whirl-pak) 3 times and then secure it with the no spill, no leak tabs.
These are now being used in all of our survival kits.



36 oz. (1,065 ml) capacity
5" W x 15" L
rolls to 5" x 1/2"
4.0 mil thick
USA MADE
3 pack of survival water storage bags
$4.75