Aquamira Water Purification Kit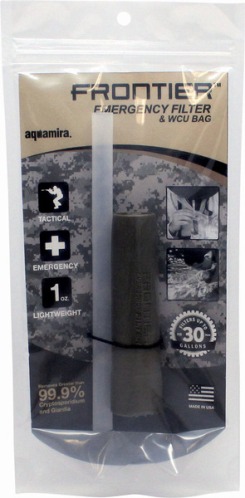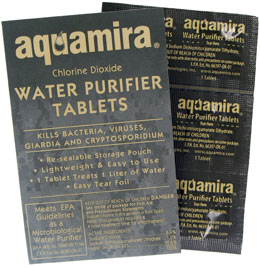 MILITARY STYLE OD GREEN WATER FILTER AND PURIFIER TABS
Filter up to 30 gallons
with the Frontier™ Filter by Aquamira®. This ultra-portable water filter is designed to take along wherever you go—and it's highly effective against the invisible culprits waiting for you in the water.

The Frontier Filter water filtration system traps over 99.9% of harmful Cryptosporidium, Guardia and other pathogens, including waterborne insect larvae and many bacteria such as E. coli.

Keep a Frontier Emergency Water Filter in your backpack, luggage, gear bag and vehicle for safe, on-the-go hydration wherever your adventures take you.
When paired with the Aquamira Water Purifier Tablets, you will be assured of having safe water in any emergency situation. Each tablet purifies one liter (32oz.) of water and is conveniently sealed in an individual child resistant foil pouch. The individual tablet pouches are stored inside a re-sealable storage pouch that eliminates packaging waste and can be packed away almost anywhere. To use, simply drop one tablet into one liter of water and wait the required time.
EPA Registered Purifier, Aquamira Water Purifier Tablets contain a patented chlorine dioxide formula that produces a powerful germicidal agent when released in water. When used as directed, Aquamira Water Purifier Tablets meet the EPA guidelines for Microbiological Water Purifiers making it the safest solution on the market. Great for weekend hiking, camping, hunting, or fishing trips. The 10 pack is perfect for 72 hour emergency kits. Aquamira Water Purifier Tablets will not discolor water and will actually improve the taste of treated water.
Includes:
1 - 10 pack of Aquamira Water Purification Tabs
1 - OD Green Water Purification Straw
Only
$16.90