UST Base Survival Kit 2.0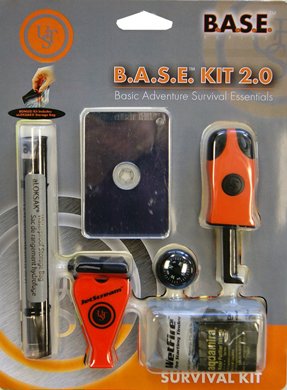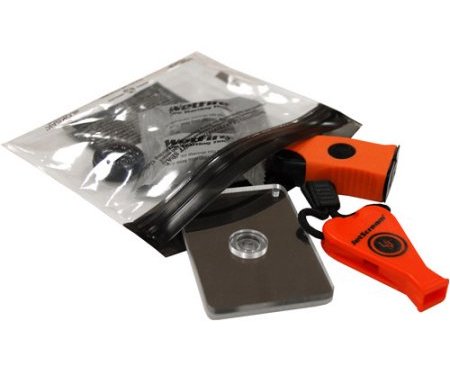 The B.A.S.E. (Basic Adventure Survival Essentials) Kit 2.0 by UST is an intermediate kit that includes several key survival items in a water-tight aLOKSAK storage bag.
CONTENTS:
1 - Sparkie™ Fire Starter is a compact, one-hand-operation sparking device with rubberized grip (lasts over 2000 strikes)
1 - JetScream Whistle with 122 decibels can be heard over most natural and man-made noises - Pea-less design won't freeze or clog.
2 - WetFire™ Tinder Cubes - Odorless & smokeless - work perfectly when wet: in rain or even in water!
2 - Chlorine Dioxide Water Purifier Tablets (1 tablet treats one liter of water). Tablets Kill at least 99.9% of bacteria (Klebsiella terrigena) and viruses (Poliovirus and Rotavirus) and 99.9% of cysts (Giardia muris and Cryptosporidium parvum) -- within 4 hours.
1 - Liquid-Filled Compass, durable, dependable and designed to be attached to equipment straps or watchbands.
1 - Starflash Floating Signal mirror - built in precision aiming system that works even on overcast days. Virtually unbreakable, lightweight and buoyant. 2' x 3'.
Size: (Packed in aLokSak) 5" x 4" x 1"
Close Out
$24.95
$21.35