Exotac CandleTIN Survival Candle
NATURALLY SMELLS LIKE HONEY
The CandleTIN™ series offers the most versatile natural wax candle on the market. With three wicks in each candle, two different wick burn rates, and two tin sizes, these candles can be a source of light or a powerhouse of heat. The hot-burn candle can even be used to boil water (18 minutes) in a pinch.
HOT BURN
The hot burn wick provides a flame height of 1-2". Use this candle for drying out tinder, boiling water, or warming an emergency blanket. Exercise caution when using all three wicks as the tin becomes hot to the touch. The hot burn wick will boil 8oz of water in 18 minutes.
SLOW BURN
The slow burn wick offers the longest burn time. Pair the slow burn wick with the large candle for a 30Hr continuous burn candle.
BURN TIMES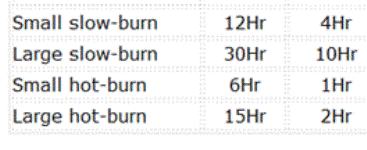 KEY FEATURES
100% Beeswax candle
Triple wick design for maximum efficiency and flexibility
Use for cooking, warmth, light and drying out tinder
Durable, reusable tin with screw on lid (small only)
Made in the USA
Exotac candleTIN Emergency Heat Survival Candle. Slow burning version. Up to 30 hour burn time (approximately 10 hours per wick). Weighs approximately 4.2 oz. Tin plated steel construction. 100% beeswax with 3 wicks. Offers brighter light, burns cleaner and lasts longer than any other wax. Also use to light a shelter or heat an emergency blanket.