Shipping/ Returns
PLEASE CHECK YOUR EMAIL REGULARLY after you have placed an order. You will receive an invoice soon after placing your order, and an email with tracking once the order is ready to ship. If not, you may want to check your "spam" or "Junk" email folders, as we find this is a major culprit of those not having received these emails.

OUR CARTS ARE NOT SETUP FOR SHIPPING ORDERS OUTSIDE OF THE STATES. WE DO HOWEVER, SHIP TO CANADA, ON AN INDIVIDUAL BASIS.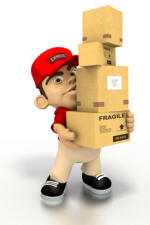 IF YOU LIVE OUTSIDE OF THE US AND WISH TO PLACE AN ORDER, please email us for information and the items you wish to order. We can then send an estimate of shipping costs. Most orders are processed by email and then shipped by USPS 1st Class International Mail, (if under 4 lbs.)or Priority, to avoid excessive customer tolls, that may arise using UPS, Fedex. Because of added fees and extra time needed in filing customs, we've been forced to add a $5.00 handling and processing fee on all international orders.

Orders in the US are either shipped by UPS Ground, Fedex or USPS -Since our shipping system is price based, you may find that sometimes the cart will display shipping costs that may not seem to be in line with what you are ordering. If you feel the shipping costs are high related to what you are purchasing, you can call or email us and we will do our best to adjust the charges, if they are warranted - EVEN IF YOU HAVE ALREADY ORDERED, WE CAN STILL CREDIT YOU FOR some CHARGES if we are contacted right away. Invoices will reflect labeling as Total Survival Enterprises. This is due to the fact that we have more than 1 website.

Please Note: On some of our promotionals offering FREE Shipping you will sometimes still see shipping charges applied on the invoice - you will not be charged for these on your final billing. However, if you should order additional products along with the specials, you will be charged regular shipping for the additional products. You may wish to make separate orders, if this is not suitable for you.

Many orders are processed and shipped the same day. However, sometimes orders will contain items that are on backorder, and it is likely they will be shipped in two separate orders, with backorders to be

shipped once back in stock. We try our best to keep items in stock, and would like to process every order immediately as they come in, however, with thousands of items, it is very challenging, as manufacturers continually fall behind in their production. This is obviously passed down the line, from distributor to us, and ultimately the customer. We do not like backorders, and work hard to avoid them, but this is not always possible, so we please ask for your patience. Most orders will take anywhere from 1 - 7 days to process before being shipped out for deliver - again the majority of orders go out in 24-48 hrs. We will do everything in our power to expedite the process. If you wish to have faster shipping please call our toll free number, or use our email address with your order stating such. If you wish to have signature verification for receiving your order, please contact us, preferably by email asap when ordering. You will be notified should an order be backordered or take longer than usual.


All prices are subject to change without notice.
California will be charged applicable sales tax.
Out of State orders are not taxable.
Federal law prohibits the return of any food products once they have been shipped.
This includes food ration bars, water pouches, freeze dry foods, and any other packaged food product or anything that can labeled for consumption. Exceptions are damaged goods and should be reported as soon as possible, so that we may contact the appropriate company for exchange.
Although we do our best to keep prices down, and are constantly looking for better pricing to pass on to the consumer, some prices are still subject to change without prior notice. Our profit margin is generally small, so if this happens to be the case on some product you have ordered, we will contact you of the change before shipping, so that you may cancel your order, if you wish. If you have other concerns on any of our pricing, we would like to hear from you. Again, we may or may not be able to help, depending on circumstances. We do appreciate and value your business with us.
It is our sincere policy to try to acquire and maintain your trust and satisfaction. Many of our products come from several different suppliers and each has their own return policies. With that in mind, please inspect your shipment upon arrival and report to us immediately, either by email or our by calling our toll free number with any defects or shortages. Again, it is possible that you may receive your shipment in 2 or more packages. If an item is not what you ordered, a replacement will be provided as soon as possible. All returns must be authorized within 10 days of receiving merchandise. Some products may only be available for exchange.
Depending upon circumstances and a particular companies policy, there may be a restocking fee, up to 15% on unincidental returns and return shipment would be at customers expense -
we do not credit for shipping incurred on items returned.
Items must be unopened, in new condition, and returned in original shipping containers.
We do not credit for original shipping charges incurred by us.
In most cases, cost for shipping returns are the responsibility of the customer.
We suggest email, before calling for this reason: In some instances, we will need to contact the appropriate company first, before offering any help. This is the response likely you will receive by calling. However, we assure you that your email will be treated with urgency and that we will do everything possible to rectify the error. A return email will be sent notifying you of the response we are taking. Please feel free to contact us with any concerns.
Private Policy
We believe, just as you do, that all private information should stay that way -private.
For that reason your information is collected for the sole purpose of billing and shipping -period.
In addition to accepting most major credit cards, we also offer, for your convenience, product payments through the increased security of PayPal. All payments are transacted through 128- bit encryption security (SSL) for your safety.
Disclaimer
Any information contained on this site is intended solely as a service offering suggestions and make no claims, promises or guarantees about the accuracy, completeness, or adequacy of the outcome. All content, including images, are the sole possession of the owner of this website. Copyright laws are enforced. We reserve the right to cancel any orders that do not meet our policies.