Exotac NanoStriker Firestarter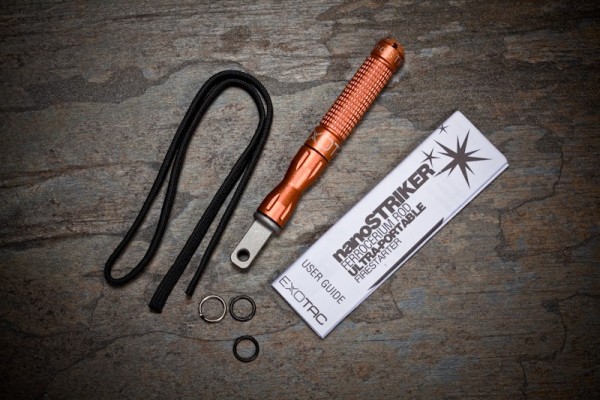 MORE THAN 1000 FIRE STARTING STRIKES!

Exotac set out to create a product that is high quality, ultra-small in size and completely self-contained. The NanoSTRIKER Firestarter is the result. Sacrificing neither form nor function, its unique all-in-one design puts all the tools you need to start a fire into one tiny package. At the end of the day, this little tool can be collapsed and returned to key-chain ballast duty.
The NanoSTRIKER Firestarter contains an ultra-sharp tungsten carbide insert for maximum sparks.
Ferro cerium fire starters work best with tinder materials that contain large surface areas: dry grasses, wood shavings, cotton balls, dry leaves, clothing lint, etc. Using a tinder material of your choosing, create a loose tinder bundle to catch the sparks from the ferro rod. Wrap the included lanyard around a few fingers to secure the striker handle. Holding the striking tool at an angle, use moderate pressure to quickly scrape the rod. The striker should be carving material off the ferro cerium rod.
Features
● Patent Pending Collapsible self-contained fire starter
● Ultra-portable for keyring and pocket carry
● Ferro cerium rod works when wet
● Lightweight 6061 aircraft aluminum body
● Tungsten carbide striker
● Replaceable ferro cerium rod
● More than 1000 fire-starting strikes!
● Measures 3 3/8" when collapsed
Included in box:
Split ring for keyring carry
NanoSTRIKER with ferro cerium rod
Extra set of o-rings
Instruction Manual
The NanoSTRIKER Firestarter is available in the following colors: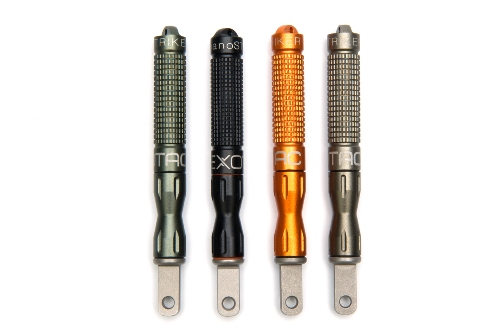 Black, Orange, OD and Gunmetal
$23.75