Bear Grylls Ultimate Survival Kit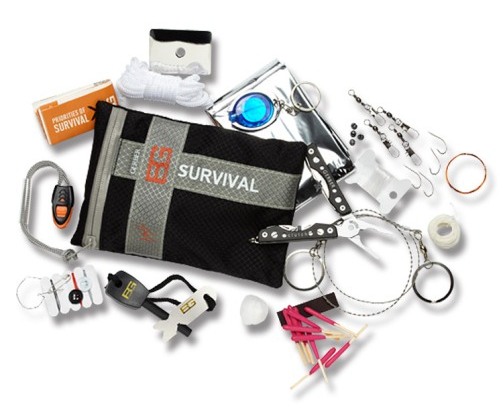 As part of a series of survival related gear, Gerber and survival expert Bear Grylls have team up to provide you with what they feel is the Ultimate Survival Kit - a 15-piece survival kit built for hostile environments. With Gerber's 70+ years of knife and gear expertise and Bear Grylls' extensive outdoor survival and adventure experience, it's hard pressed to find a better combination to develop their one-of-a-kind line of knives, tools, and gear.


The 15-piece kit includes the Gerber miniature multi-tool, which offers stainless steel, weather-resistant components including spring loaded needle nose pliers, wire cutters, fine edge and serrated knives, a Phillips screwdriver, small and medium flat drivers, a lanyard ring, a bottle opener, and tweezers. This tool's rugged construction and external components make it a reliable multi-tasker, even in the harshest environments. Black textured rubber handles provides the multi-tool with a good firm grip, even in wet circumstances.

In addition to the multi-tool, the Bear Grylls Ultimate Survival Kit comes housed in a lightweight ripstop nylon bag which has a waterproof zipper for weather-resistant storage and a collection of tools and accessories, including a miniature light, a hand saw, a signaling mirror, a survival blanket, a fire starter, waterproof matches, cotton ball fire tinder, a snare wire, an emergency cord, waxed thread, a fishing kit, and a sewing kit. Bear Grylls has also included his informative Priorities of Survival pocket guide, which is loaded with survival basics and his land to air rescue and SOS instructions.


Bear Grylls Ultimate Survival Kit Pouch

Kit Includes:

·Gerber miniature multi-tool
·Waterproof bag
·Miniature light
·Hand saw
·Signaling mirror
·Survival blanket
·Fire starter
·Waterproof matches
·Cotton ball - fire tinder
·Snare wire
·Emergency cord
·Waxed thread
·Fishing kit
·Sewing kit
·Lightweight, ripstop nylon bag with waterproof zipper
·Land to air rescue and SOS instructions
·Priorities of Survival - Pocket guide contains Bear's survival essentials
Size: 4.5" x 6.8"
$44.35